Template:Infobox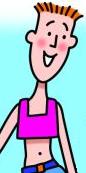 Tanya is a feisty 14 year-old foster girl who's mother comitted suicide. She is one of the main characters in Bad Girls. But also makes a brief appearance in Dustbin Baby when she lets April stay for lunch and fool around in her bedroom.
Family
Tanya's mother comitted suicide due to depression and drug abuse. Her father isn't a "suitable parent" and is an alchoholic, so thats how she ended up at Pat's. In Bad Girls, Tanya tells Mandy about her family and her younger siblings; she has a sister Carmel who is always in trouble for shoplifting and is in a carehome herself, two brothers; Sean and Matty who have either been fostered or adopted because they are "happy with their new family", and another sister Jayme who is only seen in in Dustbin Baby and is about to get adopted.
Appearance
Tanya is medium height, and is very slim. She has short, spiky hair which is naturally mouse, but she has dyed it bright orange. She often wears T-shirts, shorts and high heels.
Personality
Tanya is usually very relaxed and easy-going. However, she can also be very fiesty and fierce and through temper tantrums. She cares very deeply about her siblings, especially Carmel, getting upset when speaking about her because she doesn't see her often.
Tanya shoplifts regularly, although she doesn't seem to feel that it is even wrong, and becomes annoyed when Mandy timidly confronts her. By the end of "Bad Girls", Tanya steals a posh blue sweater from a fancy shop, Indigo. Mandy doesn't see but the Flowerfields shopping mall security comes and dial the police who arrests Tanya. After this Mandy stops seeing Tanya, who sends her a postcard when she arrives at her new foster home.