Book of the Month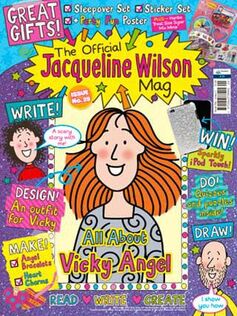 Issue 29's Book of the Month is Vicky Angel.
Story School
This issue's Story School shows you how to write a story about a wish-granting creature.
How to Draw
This issue shows you how to draw Vicky and Jade.
Vicky
1.
2.
3.
4.
Nick's Tip:
Jade
1. Draw an elongated egg shape for Jade's head. Add her ears and neck, and draw a triangular shape for the opening of her cardigan. Sketch a sweeping curve for her right arm and the outline of her left arm.
2. Fill in the details of Jade's shirt collar and cardigan before adding her skirt and legs. Rrmember to leave gaps for drawing in her hands later. Draw the outline of her shouder-length hair.
3. Give Jade a straight fringe and a school tie. Finish off details like her shoes and hands.
4. Draw in Jade's face and a school satchel over her shoulder. Now use your pens or pencils to colour her in!
Nick's Tip: Use pink chalk on Jade's cheeks and blot with a tissue to give her a rosy flush.