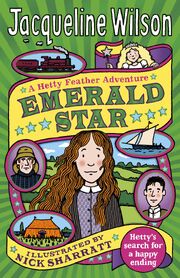 Template:InfoboxEmerald Star is the third book in the Hetty Feather trilogy (Hetty Feather; Sapphire Battersea; Emerald Star) and has been long awaited. Will Hetty ever be reunited with Jem? Will she see Bertie again?  And will she ever find Tangelfeild's Travelling Circus?
Hetty first travels to Monksby to find her father, but when she does, she finds to her dismay that her father is already married with two children. She tries, but her stepmother and half-siblings resent her, and she finds life as a fisherman's daughter hard to adjust to. She returns to her foster family for her foster father's funeral, and is finally reunited with her beloved Jem. However, after the funeral, Hetty, while trying hard to please Jem and look after her now-disabled foster mother, finds it hard.
She doesn't love Jem as a sweetheart, while he still wants to marry her when she is old enough. Matters are complicated, as a village girl, Janet, becomes close friends with Hetty, but has been in love with Jem for some time before. When Tanglefield's Travelling Circus comes back, Hetty befriends a little acrobat girl called Diamond, and reaquaints herself with Madame Adeline, a horsewoman who Hetty had once pursued, imagining that she was her true mother. Eventually, Hetty joins the circus, after telling Jem her true feelings. At the end of the story, Hetty leaves the town to start her life as the ringmaster of the circus.
Hetty and Jem are foster siblings since Hetty's first days. In this book, when Jem's father (Hetty's foster dad) dies, Jem writes a letter to Emerald informing her. In the end,after her foster father's funeral, she runs away with the circus she always loved. There she meets Diamond, and becomes a ringmaster.
Community content is available under
CC-BY-SA
unless otherwise noted.